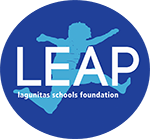 Latest LEAP News
LEAP
Monday, February 04, 2019
The LEAP Board is inspired and thrilled to have hosted such an enthusiastic and FUN crowd at our TOTALLY 80's Valley Visions Fundraiser this past Saturday, February 2nd. The PEOPLE of the Lago community is what made the event so remarkable. The energy was infectious and we hope this is a sign of more of the same in the 2nd half of the school year.

THANK YOU ALL FOR SUPPORTING OUR SCHOOL. The AUCTION is NOW OPEN!
https://leap4education.org/auc...

IMPORTANT THINGS YOU CAN DO SUPPORT THE LAGUNITAS SCHOOL DISTRICT:
1. BID on AUCTION ITEMS now https://leap4education.org/auc...
2. PLEDGE: Once, recurring, big, small... Just do it. https://leap4education.org/par...
3. Put a LEAP MAGNET on YOUR CAR (pick up in either office)
4. Be a SPONSOR or recommend a company for potential sponsorship. Businesses promoted until June including via the Spring Music Festival. Sponsorship Contact:carlina.bjork@yahoo.com
5. VOLUNTEER for a shift at the Book Fair (watch for signup genius)
6. Help kids sign friends/family as READATHON sponsors Contact:wendyheneghan@hotmail.com
7. GET INVOLVED in planning the Spring Music Fest. Event Contact: bellezzaskin@yahoo.com
8. ATTEND Give Back Nights.
UPCOMING IMPORTANT DATES
FEB. 25 LEAP MEETING room 20, lower campus next to the library (next 3/26)
Mar 1-31 READATHON! Contact wendyheneghan@hotmail.com to assist, support, or query
Mar 3 Auction CLOSES
Mar 4 Weeklong BOOK FAIR starts
March GIVE BACK NIGHT at Papermill (date TBA)
April GIVE BACK NIGHT at Pizzalina (date TBA)
May 18 Save the DATE Valley Spring Music Festival! Contact: bellezzaskin@yahoo.com
BOARD MEMBERS: James Sanders, Neily Messerschmidt, Dana Russ, Jodie NewDelman, Tracy Signor, Carlina Bjork, Alan Charne, Kerry Ackeret-Olivotti, Adam Vurek, Marlene Linder-John, Leslie Durkee, Robin Hendrickson-Nelson
More information about LEAP can be found on our website under the LEAP tab or click on the link to be taken to their website. https://leap4education.org/