Isabel Cook: Lagunitas School's first Principal
Isabel "Cookie" Cook (1900 to 1949) was a legendary figure in the field of education in the Marin County of the 1920s through 1940s. Cook was born in 1900 in the Sierra Nevada foothills to a large family. Her first position after graduating as valedictorian from San Francisco State University—then San Francisco State Teachers College—was as the first principal of the newly built Lagunitas School on Sir Francis Drake Boulevard, in San Geronimo.
The Lagunitas School District was relocating from a one-room schoolhouse in the town of Lagunitas, and Cook took the opportunity to introduce new programs to the district, including starting a volleyball team for girls and initiating a theater arts program, called the Camp Fire Girls of Lagunitas. Both programs were enthusiastically supported by the community. A beloved teacher and respected all-around sportswoman, as evidenced in this photograph, Cook was known to take students out into the environment surrounding her schools for time outdoors.
During her assignment at Lagunitas School, she took children on long camping trips across Marin's ridges and mountains. From 1930 forward, she supervised other West Marin schools under the title of Marin County Rural Supervisor of Rural Life, an elected position with the state P.T.A. and an official Marin County position.
Cook passed away at the age of 49, having lived an abbreviated but rich life in service of her students. The Isabel Cook School on Sir Francis Drake Boulevard (now the Isabel Cook Community Center, part of San Anselmo's parks and recreation department) was named in her honor, and since the 1980s the adjacent Isabel Cook Homes have offered affordable housing to low-income Marin renters.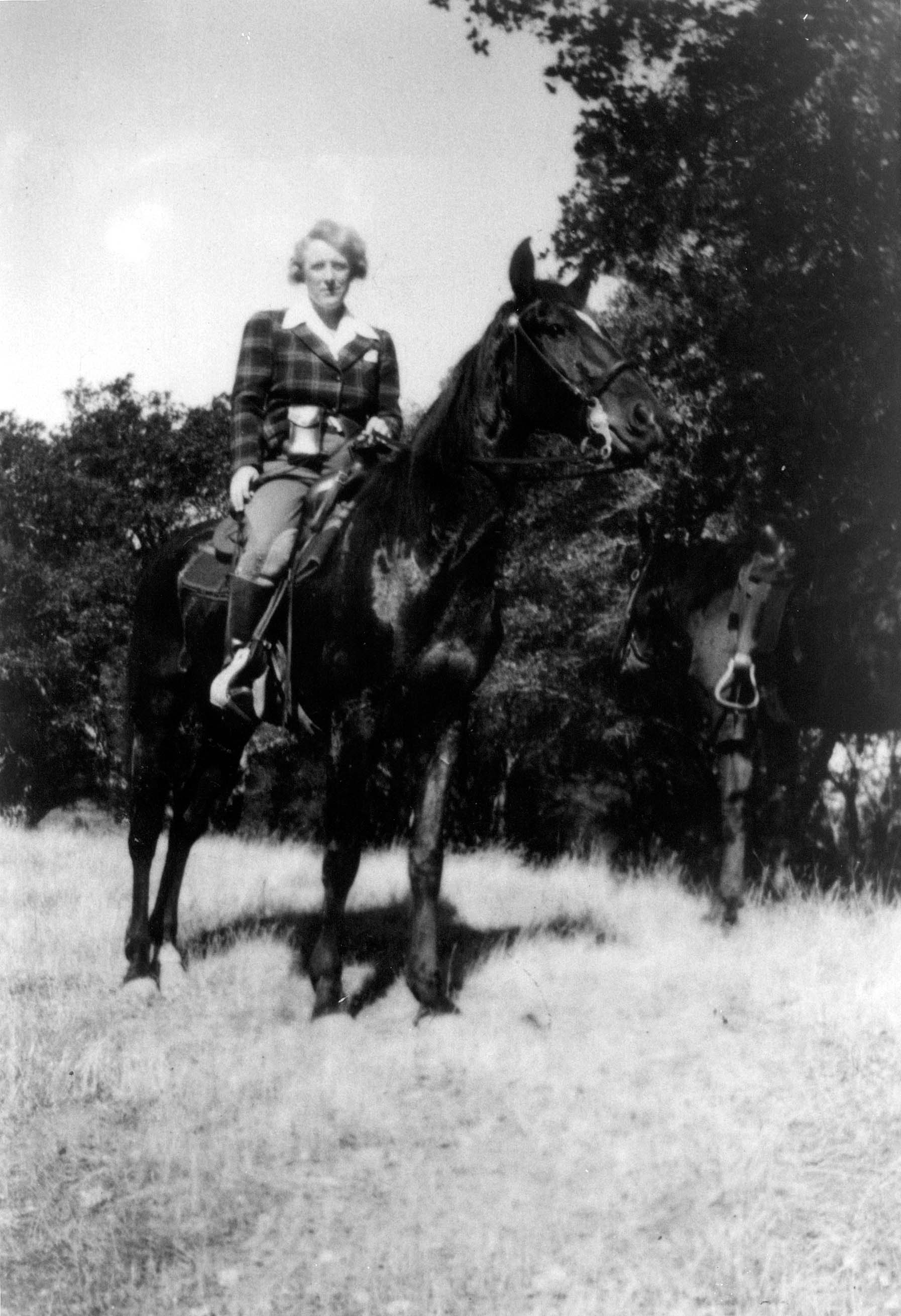 Isabel Cook on horseback in the 1930s. Photograph courtesy of the San Anselmo Historical Society.