The Lagunitas School District was formed in 1908, yet has long represented progressive and unique approaches to public education. Click "Why Choose Lagunitas" above to learn more about who we are!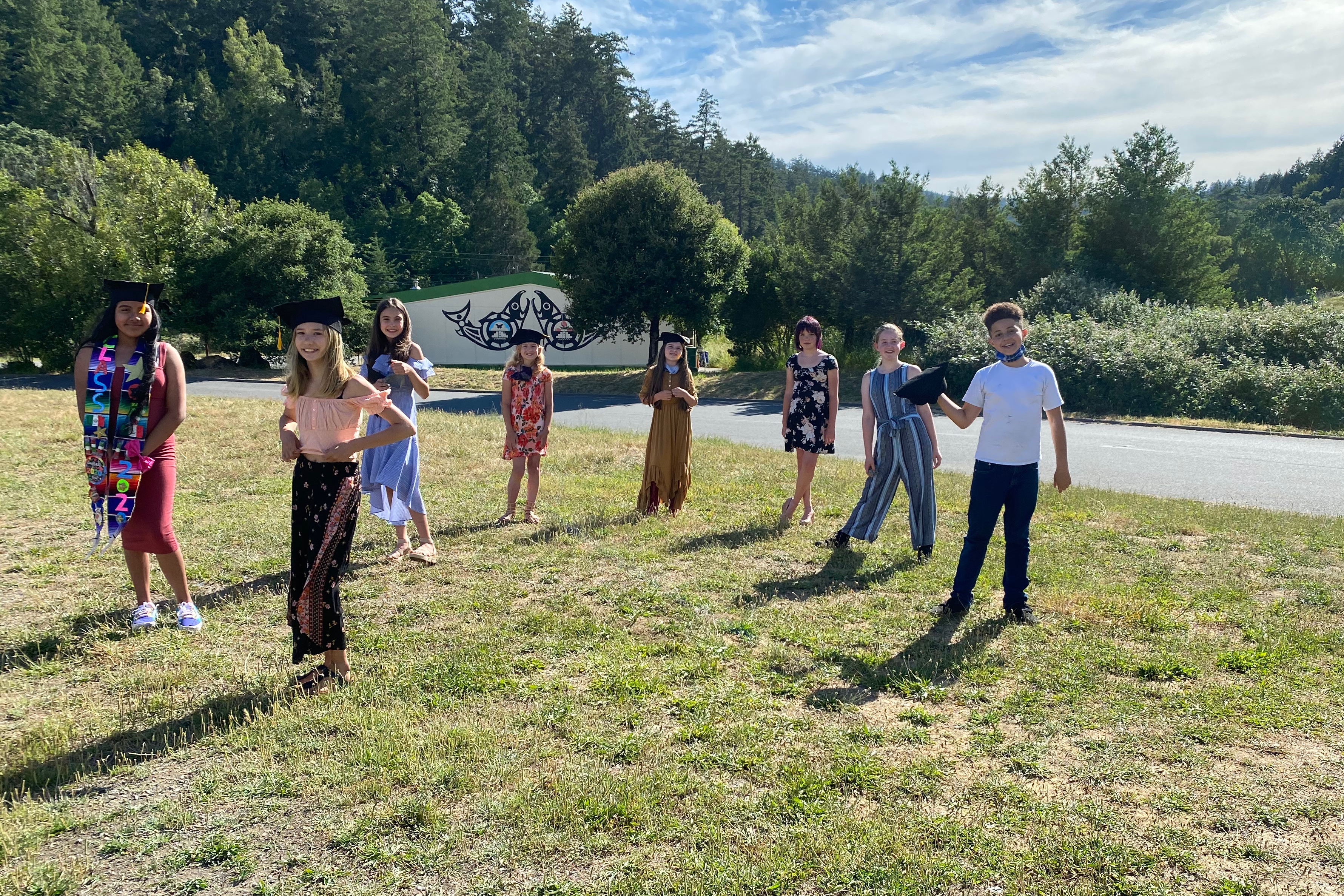 Our Tk through 5th grade students are all together in our newly combined elementary program. We are excited to begin this new phase of progressive education where our values of student choice, social emotional literacy, and engaging project-based learning is embedded with academics and the arts throughout the school day. Learning and play extend to the outdoors on our beautiful, nature-filled campus. Students enjoy art, music, garden, Spanish, and maker space activities each week.

The Middle School Program is a semi-departmentalized program. Students rotate through several different teachers to receive a core curriculum in language arts, math, science and social studies. Click "Middle School: Grades 6-8" above to learn more.

Lagunitas Community School's newest communication tool for parents/guardians and staff. Contact the school office if you need help setting up your account.
From 1872 through the present
1872: New district
The San Geronimo School District was formed in 1872 to serve area ranches. Before this, children had to travel to Nicasio Valley to attend school in the one room schoolhouse in that district. This was the precursor to the Lagunitas School District.
1875: Schoolhouse
While the district was formed in 1872, its schoolhouse wasn't completed till three years later, at a cost of $1,000 dollars. The 20x30 foot one-room schoolhouse was near the intersection of today's SGV Dr. and Nicasio Rd.
1908: LSD is formed
The San Geronimo district dissolved and its place was taken by the new Lagunitas School District in 1908, with a new one-room schoolhouse on West Cintura Road in Lagunitas. This is why the district still bears the name 'Lagunitas.'
1927: A new home
Woodacre resident Alfred Y. Williams designed and built the new Lagunitas School on ranch land donated by the Garzoli family of San Geronimo. That building is now the San Geronimo Valley Community Center, an important partner.
1970: Open begins
The Open classroom began with the hiring of teacher Sandra Dorward. The first multi-grade version of the program started in 1971, and 1972 saw a school board election that supported the continuation of the progressive program.
1983: Montessori
Lagunitas' Montessori program was founded in 1983 as the first public Montessori school in Marin County. Another traditional program, A&E, was once offered to families. Today, Lagunitas has Marin County's only public Montessori program.
1998: MS complex
Booming district enrollment of nearly 500 students overflowed existing classrooms and led to the construction of a brand new six-classroom Middle School facility. Work was completed by San Francisco's Lemanski & Rockwell architects.
2020: COVID-19
The Lagunitas School District adapted to the global COVID-19 pandemic by holding classes 100% online for the first time in the district's history for nearly a full calendar year beginning in March of 2020. The district moved to a hybrid learning model in early March 2021.